Using estimating software is the easiest way to calculate construction when you need to complete the construction period in a short frame of time. Some companies use pre-designed excel-based applications for their projects, and some use professional estimating software. If you are a small construction firm, working as a self-employed estimator, or even a student, you can find various excel based construction estimating software on the web.
BidScreen XL
Want an excel based construction estimating software, BidScreen XL is one of the best software that comes with Excel add-in takeoff applications. So, you can use this tool to takeoff quantity from our plans directly in Microsoft Excel.
Estimating Excel template files for general contractors, concrete, roofing, painting and other substrates.
Construction Estimate Template for Excel
This free construction estimate template collects the data you get when researching the cost of your construction project, whether you're a construction project manager, project owner or general contractor. It is used during the construction estimating process to anticipate expenses for the project moving forward.
The more accurate the estimate, the better the profit margins for general building contractors and project owners. This construction estimate notes all labor, material, direct and indirect costs for your construction projects.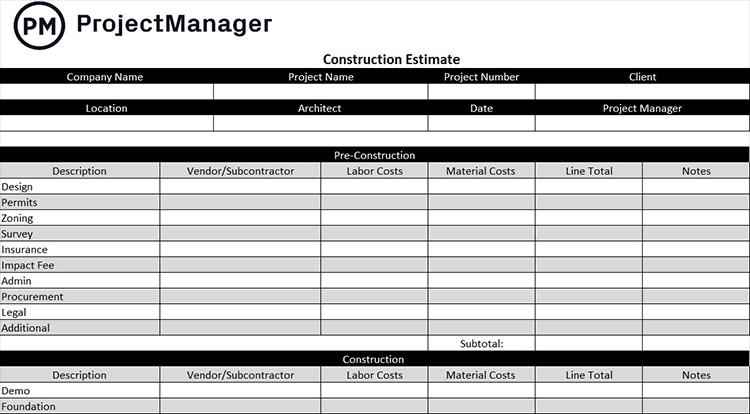 What's Included in this Construction Estimate Template?
Labor Costs: The costs associated with the human resources needed for the construction project.
Material Costs: The costs of raw materials needed to build structures.
Direct Costs: Direct costs are those that are directly related to an activity in the project, such as the materials used, the labor employed and the equipment either bought or rented.
Indirect Costs: Indirect costs are those that are not allocated for specific construction activity, such as quality control, security, admin, temporary structures, etc.
Project Estimator Tool
This Estimator tool can be used to itemize and summarize small to mid-sized construction projects of any kind. Use this tool during estimating, bidding or drafting change orders. We understand the value of useful, accurate tools in the world of Construction Management – this tool has been created to provide quality estimating software to our readers for free. Below are a few basic rules and guidelines to review before getting started.